Blue Shutters Beachside Inn
at Good Harbor
"Thank you for the wonderful memories"
"The view, the welcoming smiles and the company…it was all great"
 "The Blue Shutters magic does it again"
 "What a piece of heaven you have"
"A day here is like a week's vacation"

These are just a few of the hundreds of comments we've received from guests since we took over the Blue Shutters in 2007.  It has been our goal to bring a fresh look and a warm and friendly atmosphere to this historic inn…and based on what we've heard from friends old and new, we're doing just that.

If you haven't been here, you must come see for yourself.  We're just steps from Good Harbor Beach in picturesque Gloucester…and we're minutes from some of the Cape Ann area's finest shops, art galleries, restaurants, museums and night spots.

The Blue Shutters is the perfect spot to get away – in the summer, winter, spring or fall.  We're open year round, and offer weekend specials throughout the off-season.

Visit anytime – for a night, a week or longer – and you'll understand why the Blue Shutters has become a favorite place for so many.

Ed and AnnMarie Comer
Tony and Patty Sapienza
Blue Shutters Beachside Inn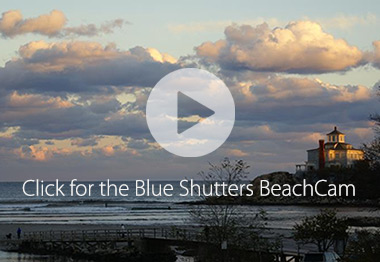 Blue Shutters Beachside Inn has something for everyone -- a variety of uniquely decorated rooms that can accommodate single guests, couples, families and groups of all sizes.
Spectacular ocean views await you at the Blue Shutters Beachside Inn – views that will take your breath away, whether you visit in the summer, winter, spring or fall.